The Top Selling INFINITI's Of All Time
INFINITI is Nissan's luxury vehicle division and has been around in the U.S for over 30 successful years. Although most of their models have been hugely popular with automotive buyers and enthusiasts, a few of them have managed to stand out. These are some of the top-selling models in INFINITI's first three decades of existence.
INFINITI QX50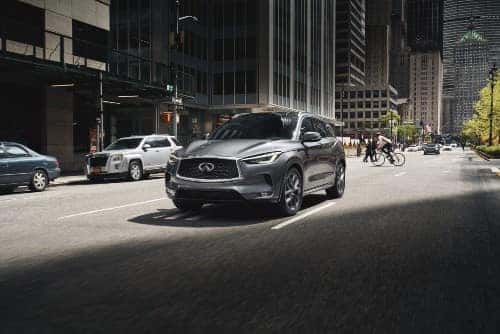 Compact luxury crossover SUVs are some of the most popular car models nowadays, but the QX50 has been around way before this current trend. Initially named INFINITI EX, it was first launched by the Japanese manufacturer in 2007 and then rebranded as QX50 in 2013. The first QX50 generation was very popular with the American market and that led to the launch of its second generation in 2019, which is also the latest. Although it competes in a very crowded market, the QX50 manages to keep its popularity thanks to its supreme interior space and comfort standards.
Buyers can choose from five trim levels: Pure, Luxe, Essential, Sensory, and Autograph, with each of them bringing new style, comfort, and performance upgrades. However, the basic Pure trim is a very well-equipped vehicle, with features like 19-inch alloy wheels, LED headlights, two touch-screen interfaces, a Wi-Fi hot spot, and many other standard elements that are only available as options for other vehicles. Plenty of driver aids, like forward-collision mitigation, lane-departure warning, and rear automatic braking are also standard.
All trims have the same powertrain, but it should be more than enough for any task. It consists of a turbocharged 2.0-liter four-cylinder engine that can produce up to 268 horsepower and 280 pound-feet of torque, paired with a smooth continuously variable automatic transmission. Front-wheel drive is standard, but drivers who live in areas with frequent bad weather or who plan on taking their QX50 off the road can choose all-wheel drive.
INFINITI Q50
The Q50 is a luxury sport sedan that was introduced in 2014 as a replacement for INFINITI's G-series sedans. Its gorgeous and elegant looks, great comfort levels, and top-tier performance instantly made it a hit with drivers and a powerful rival for more established German luxury sedan models. It's still at its first generation, having been gradually upgraded every year since its 2014 launch.
There are four trim levels to choose from: Pure, Luxe, Sensory, and Red Sport 400. All Q50 models are exceptionally powerful, due to the standard powertrain consisting of a 3.0-liter V-6 engine that can produce up to 300 horsepower and 295 pound-feet of torque, paired with a seven-speed automatic transmission and rear-wheel drive, which can be upgraded to all-wheel drive. The only trim with a different standard engine is the top Red Sport 400, which has an upgraded power output of 400 horsepower, hence the name, and 350 pound-feet of torque.
Despite the powerful engines, the INFINITI Q50's top qualities are comfort and elegance. All seats are very well-adjusted, keeping passengers in comfortable positions even on long drives, while the driver's visibility is enhanced by the slim roof pillars. The interior is also elegantly designed and features plenty of infotainment features that are essential for a modern car. Two touch-screen interfaces create a unique multimedia experience, while smartphone connectivity is easily available via Android Auto, Apple CarPlay, Bluetooth, and USB ports.
INFINITI Q60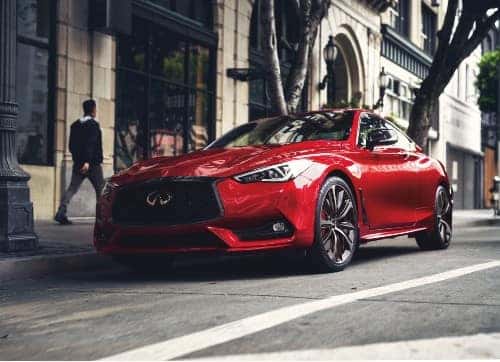 INFINITI's luxury SUVs and sedans are amazing vehicles, but the ultimate car type when it comes to mixing elegance and performance is arguably their luxury sport coupe, the INFINITI Q60. Although it was officially introduced in 2014, its story begins long before that, as the Q60 is a continuation of INFINITI's hugely popular G coupe model, which has its origins in Nissan's Primera and Skyline models. The result is a spectacular vehicle that manages to turn heads wherever it goes.
It features the same engine lineup as the Q50, with a 300-horsepower standard engine and a 400-horsepower upgrade, and has many of the Q50's features, although it tends to appeal to a slightly different type of driver. Besides the sports coupe version, buyers also have the option of choosing the spectacular Cabrio variant. Both cabin types offer great comfort levels, with soft seats, wide-opening doors, and good wind, road, and engine noise insulation. However, despite all its performance and comfort-oriented features, the Q60 is and will probably remain hugely popular for the foreseeable future thanks to its spectacular looks.
INFINITI QX80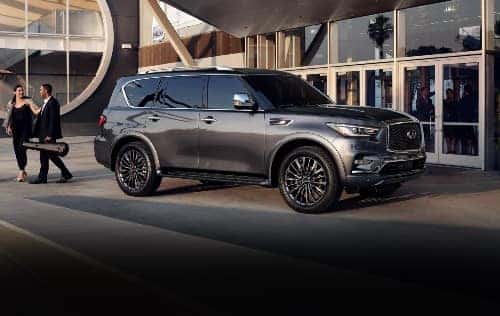 The main appeal of the INFINITI QX80 is its ability to carry up to seven passengers in supreme style and comfort. It originated as INFINITI QX56 back in 2004 and was renamed along with the Japanese manufacturer's entire lineup in 2014. The current model is part of the QX80's second generation and has been around since 2010, with yearly updates. Its three available trim levels, Luxe, Premium Select, and Sensory, are all equipped with the same engine, a muscular 5.6-liter V-8 that produces up to 400 horsepower and 413 pound-feet of torque.
However, the QX80's top qualities are inside its cabin. All its seats are comfortable and the wide-opening doors make it easy to get in and out regardless of passenger size. Cabin insulation is excellent with most outside noises being eliminated or greatly reduced, while the suspension system enhances the overall comfort by managing to cancel out most minor bumps in the road. All interior functions are easy to use and everyone on board can connect to its main infotainment system through Apple CarPlay and Android Auto.
Besides its obvious qualities, like interior space and comfort, the QX80 surprises with its great towing capacity. It is able to tow up to 8,500 pounds, which is a respectable load even for a light truck, meaning that you can easily take your boat or camper caravan along for the ride.
Despite its relatively short history, INFINITI has established a solid reputation as an exceptional carmaker. It doesn't matter if you're in the market for a compact SUV, luxury sedan, eye-catching coupe, or a huge seven-seater to fit your entire family, you can visit us at Herrin-Gear INFINITI and find what you're looking for!