INFINITI Service Specials in Jackson, MS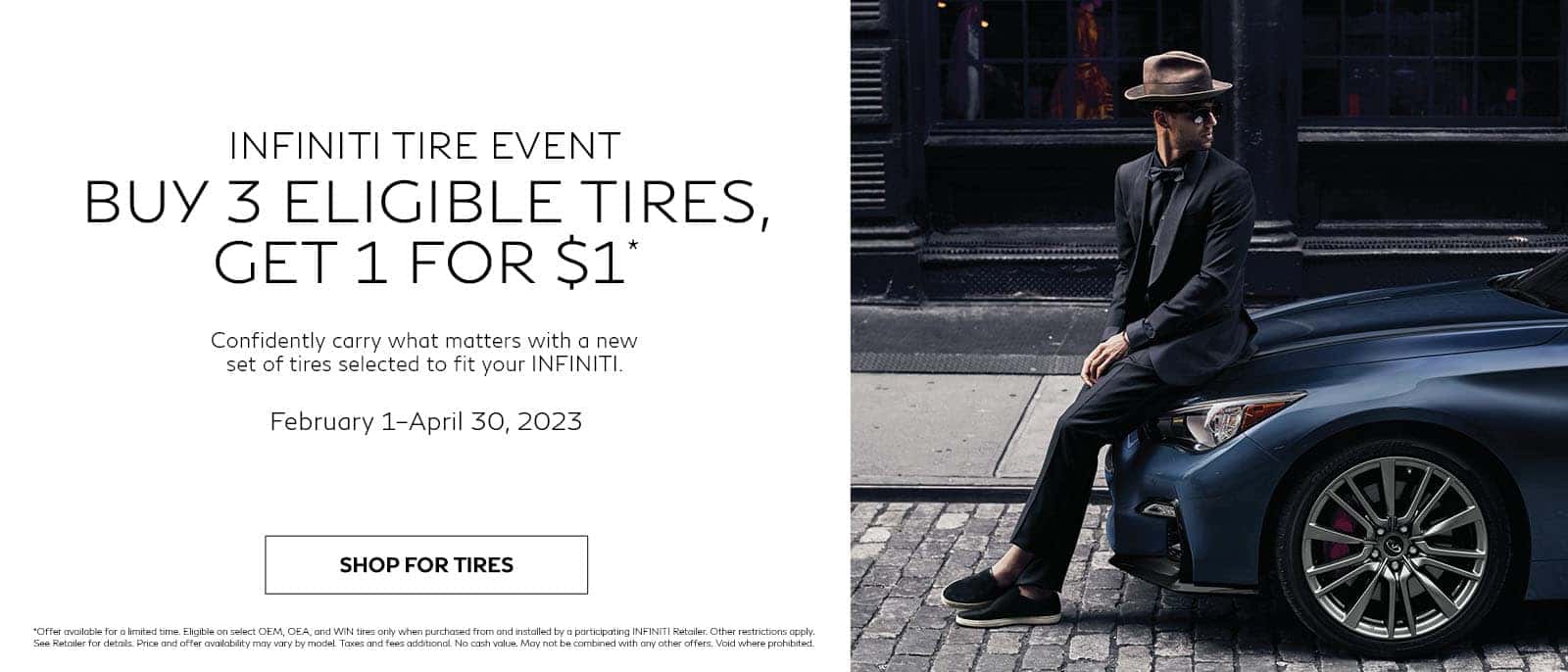 One of the essential components of a functioning INFINITI is the fluids it runs on, especially the engine oil. Consequently, getting an oil change service in Jackson, Mississippi, is important to maintaining your INFINITI. If you skip getting your oil changed when you're supposed to, your car's performance will suffer.
Nissan recommends that you take your INFINITI in for an oil change service at least once every 5,000 miles or every five months, whichever comes first. Our trained service technicians use high-performance INFINITI brand oil filters and high-performance synthetic oil to perform your oil changes when you schedule service with Herrin-Gear INFINITI.
Computerized Wheel Alignment Offer
INFINITI vehicles like the Q50, QX50, and QX60 come with all-wheel-drive transmission and require regular four-wheel alignment service. Herrin-Gear INFINITI provides the four-wheel alignment service that meets certified INFINITI standards.
Our certified technicians complete this service with advanced, computerized wheel alignment equipment by adhering to the technical service protocols. Take advantage of our current service specials when your INFINITI needs a four-wheel alignment service.
Brake Repair Offer
Your brakes are undoubtedly the most important safety system on your INFINITI. Therefore, you want to ensure that they're always working correctly. As a result, you can drive with peace of mind, knowing that you can easily bring your car to a stop.
As your brakes' performance starts to decline and vital components wear out, you'll experience longer stopping distances, overheating brakes, and reduced braking power. When this happens, you'll want to schedule brake service immediately.
Whether you require a brake inspection to see what may be wrong with your brakes or need a repair completed on the rotor or brake pads, schedule your brake service appointment online at Herrin-Gear INFINITI and enjoy our exclusive service offers.
Battery Service Offer
When your vehicle's battery starts to malfunction, electrical systems in your car will start to fail, and the car might not start. This is one of the many reasons you should regularly get your vehicle's battery checked.
Your car's battery lasts for three to six years, depending on your driving habits. Herrin-Gear INFINITI technicians recommend having it replaced after four years. If your ride has any of the issues listed below, you might need to replace it:
The engine won't start or starts slowly.
Dim headlights.
The battery warning light is illuminated.
Electrical parts are slow or not working properly.
Our service center's knowledgeable team of technicians can quickly diagnose your battery issues and recommend a solution. Make the most of our ongoing service offer by using our online form to schedule your next service visit.
Transmission Service Offer
Transmission fluid helps maintain a smoothly functioning transmission. It lubricates all the components inside the transmission to easily shift from one gear to the next. However, the fluids break down over time, impurities get inside the car, and trouble begins. With regular transmission service, you'll improve vehicle performance and prolong its life span.
Undoubtedly, a healthy transmission is key to your car's overall health. Without it, your vehicle can't function correctly. It's much more affordable and easier to get your transmission repaired than replaced. And regular service is even easier. With easy online scheduling and exclusive service offers on our website, it's easier than ever to get your service completed at Herrin-Gear INFINITI.
Cabin Air Filter Replacement Offer
Replacing your cabin air filter is one of the simplest ways to improve the air quality in your car. A cabin air filter keeps pollen, soot, dust, bacteria, bugs, leaves, and debris from the passenger compartment. Furthermore, it helps get rid of odors and reduces allergy-related issues.
Blocked air filters overwork your car's air conditioning and heating system, while new filters boost the performance of your vehicle's climate control system. Keep the air in your INFINITI vehicle clean with our in-cabin air filter replacement service offer at Herrin-Gear INFINITI.
Engine Air Filter Replacement Offer
The purpose of your INFINITI engine air filter is to clean the air from impurities, like dirt, dust, and other debris, before it goes into your engine. All engines need a large supply of air to ignite fuel. Contaminants can cause costly damages to your powertrain, which is why you should always have one of our skilled INFINITI technicians check your filters during your scheduled service visit. At Herrin-Gear INFINITI, we'll perform a multi-point check for you free of charge. So, hurry and schedule your service appointment today!
Wiper Replacement Offer
At Herrin-Gear INFINITI, your safety is important to us. That's why we provide several services intended to keep you safe, from tire services to brake services. However, there's one safety feature that's often neglected, and that's your vehicle's windshield wipers. At Herrin-Gear INFINITI, we have an ongoing windshield wiper replacement service offer to help keep your vision clear and your drive safe.
Tire Rotation Service Offer
Tire rotations help keep the wear of your tires even and sustain a long, healthy life. The process of getting your tires rotated is a quick and painless procedure, which means you'll be in and out of our service center in no time with our express service. Ensure your tires wear evenly, and you get optimal handling, performance, and fuel economy from your car with our INFINITI tire rotation service at Herrin-Gear INFINITI.
Multi-point Inspection
Herrin-Gear INFINITI's multi-point inspection service offer covers your entire car and its different components. Jackson, Mississippi, INFINITI drivers who want to get the most out of their cars while lowering long-term maintenance costs, get regular multi-point inspections.
Additionally, INFINITI drivers who choose to perform scheduled maintenance like tire rotations and oil changes enjoy complimentary multi-point inspections with every visit. However, we provide standalone multi-point inspections for clients who want to determine the root cause of performance issues, such as reduced fuel efficiency. Here are some things our multi-point inspection covers:
Performance analysis on your vehicle's battery.
Under the hood and under the car inspection.
Tire tread inspection.
Interior and exterior inspection.
Inspection of the entire braking system.
Alignment and suspension.
Steering function.